to go NexT free.

NT01B/NT01L True Wireless Stereo Earphones
NT01B/NT01L
購入
feature
NT01B Specification
NT01L Specification
High quality HDSS totally wireless earphone with Bluetooth5+5hr. Playback+5g light weight
NUARL NT01B HDSS True Wireless Stereo Earphones are totally separate and combining our original specialty and technology.
With latest wireless technology and acoustic equipment compressed into the 5g light body, we were able to balance out the connection stability of wireless earphones with clear and live music playing. Powerful battery offers 5 hr. playback.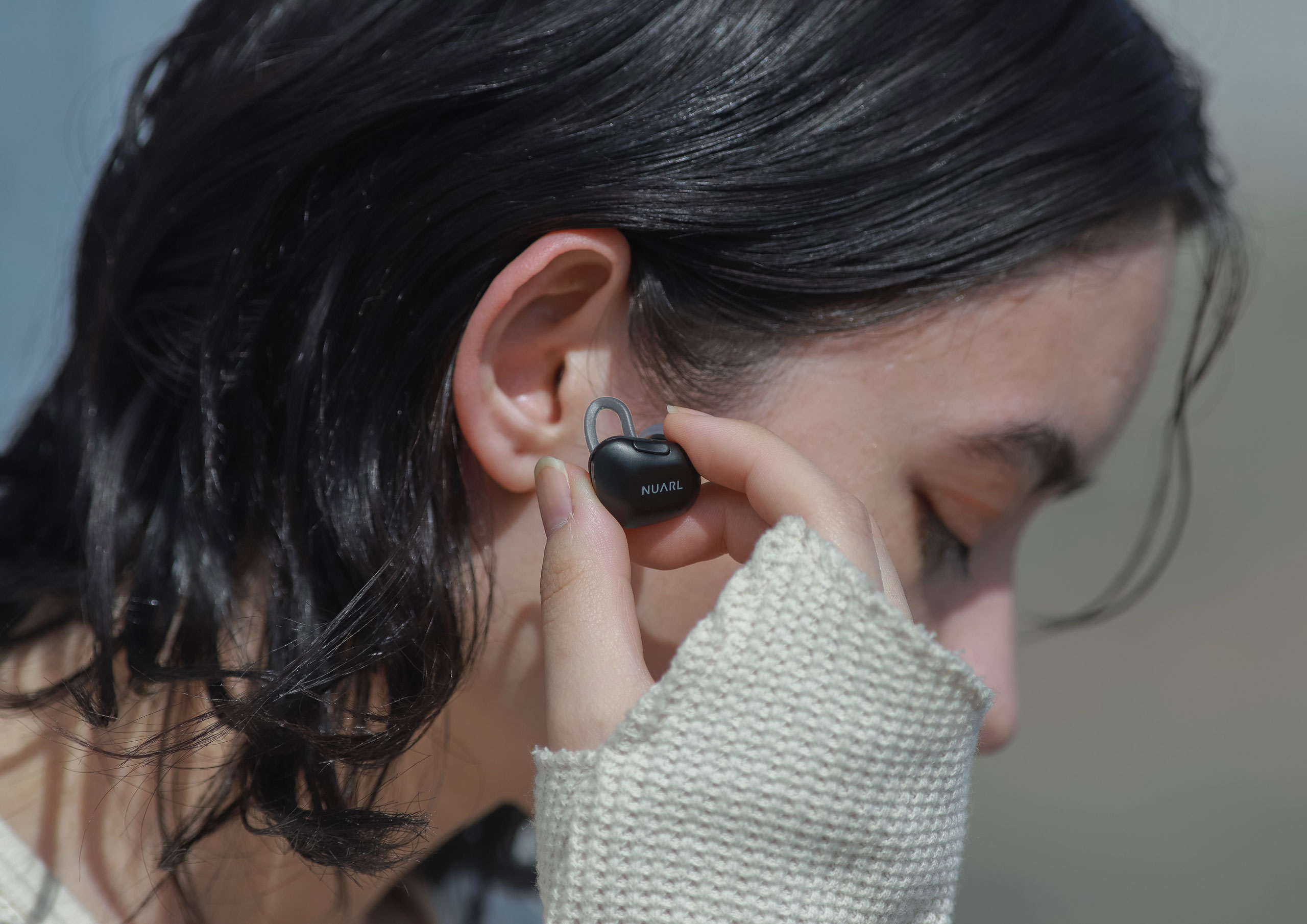 High-quality sound makes you feel more realistic by HDSS (NT01B only)
Basic model NT01B adopted patented technology HDSS by TBI Audio Systems LLC.
The ETL acoustic module installed inside would hold down noises to provide clear sound. This could prevent the in-of-head sound localization caused by in-ear earphone, recreating natural sound field.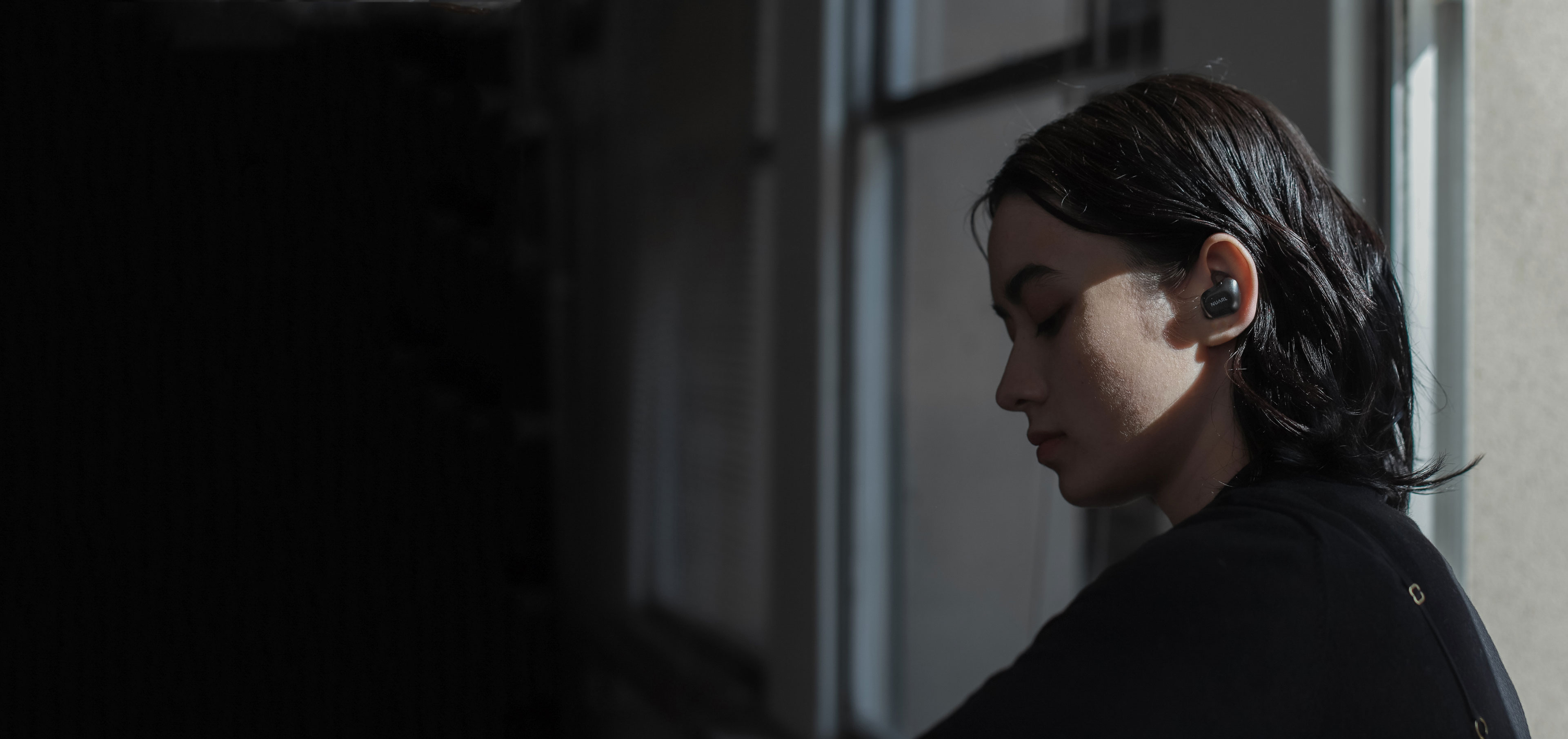 Combining Qualcomm Bluetooth 5 chipset and our original antenna technology
We adopted the Qualcomm QCC3001 chipset which is excellent in sound quality and connection stability. Combine with our original MCA (Mutual Coupling Antenna) technology to balance out stability of wireless connection and low noise.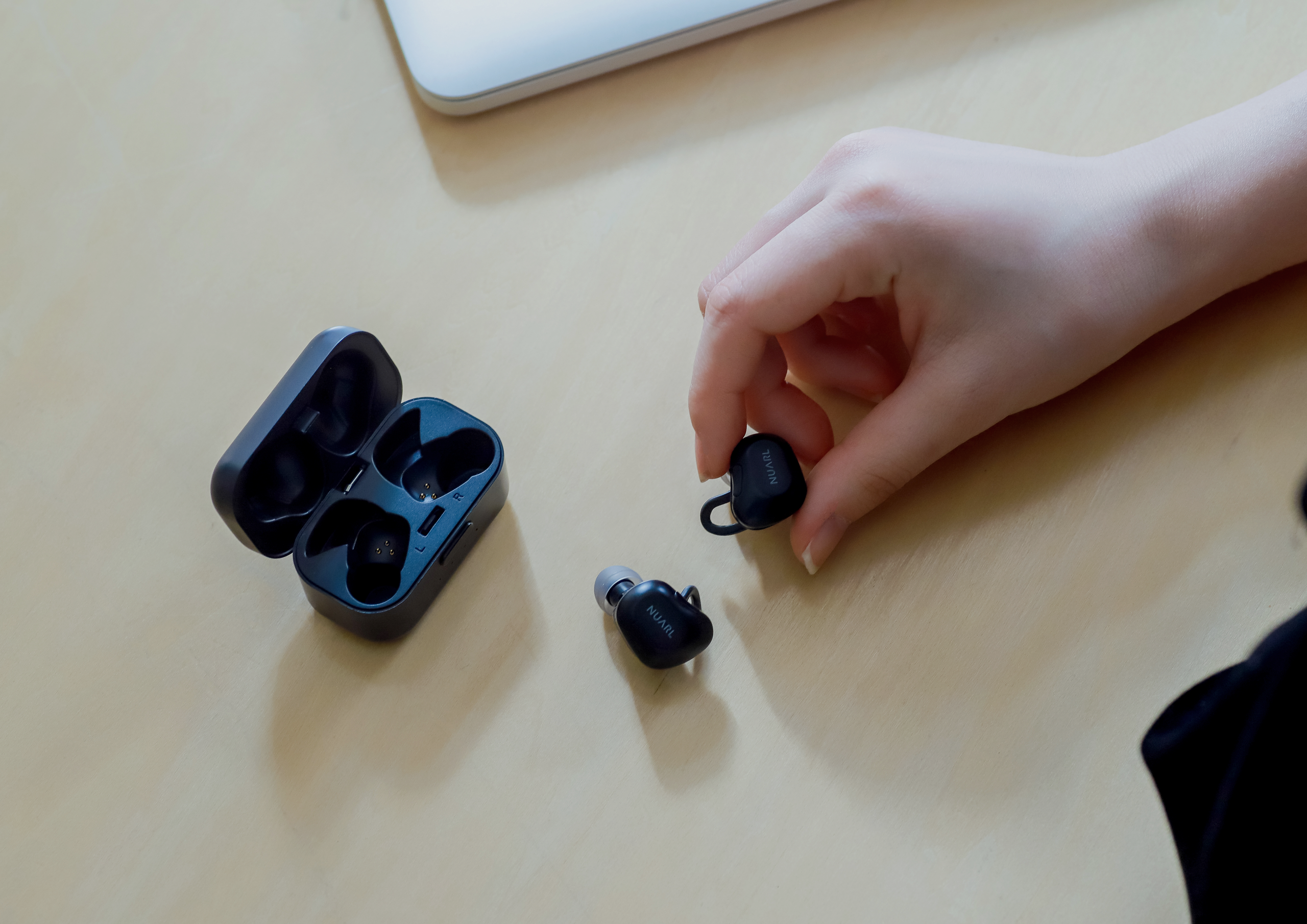 Relieved from connecting complexity by totally wireless earphones
Both sides of earphones are set for master and slave. Only the master earphone is required to pair with the smartphone for connection. The automatic reconnection function allows the earphones set in the case to reconnect automatically simply by opening the cover, with no need to reconnect manually.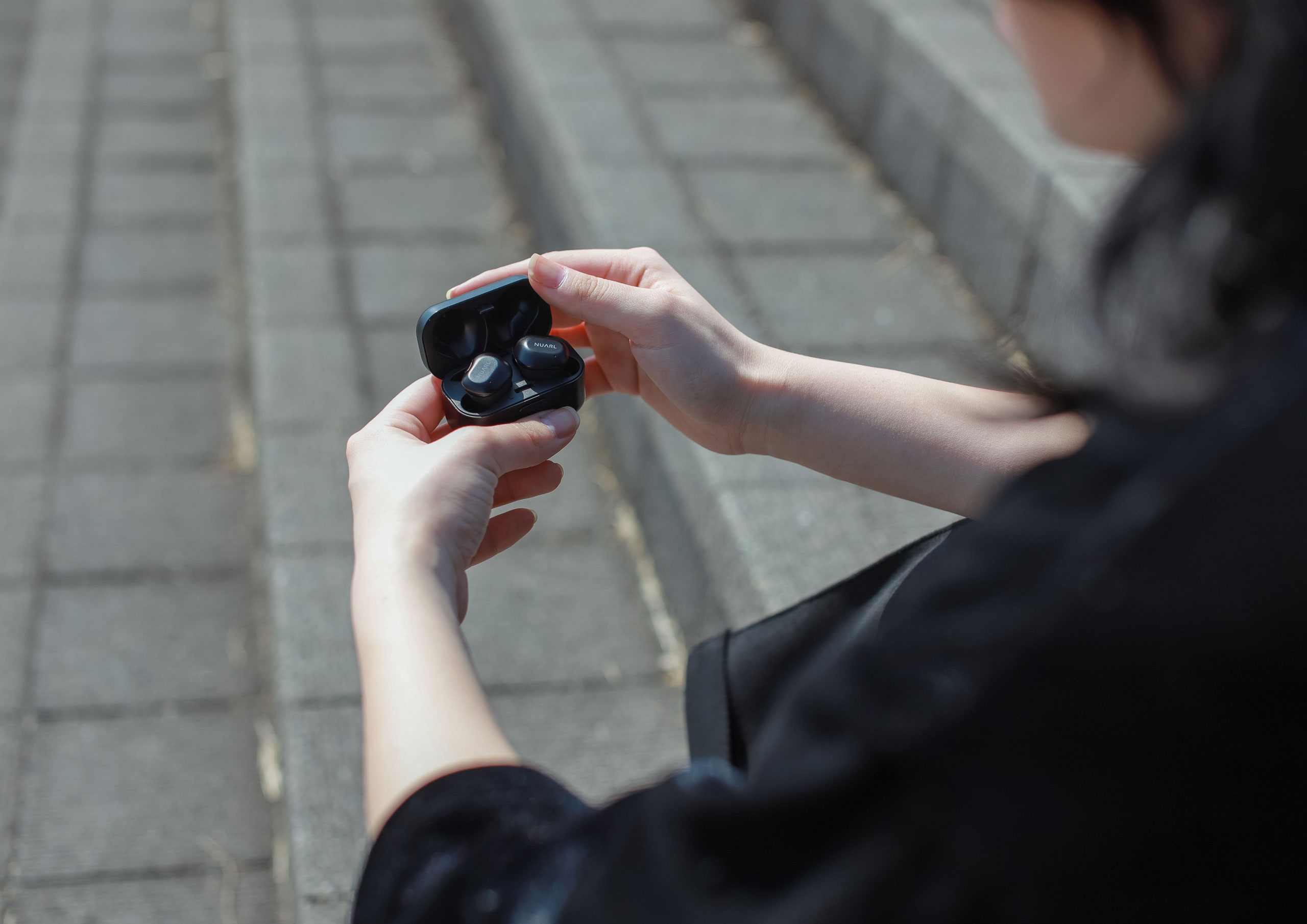 Notify remaining battery by eyes and ears
The battery level of the master earphone will be displayed on your smartphone, while the slave earphone's battery level can be confirmed by LED. Voice message will be announce when the battery level is low. The battery level of the charging case is shown by LED in 4 levels.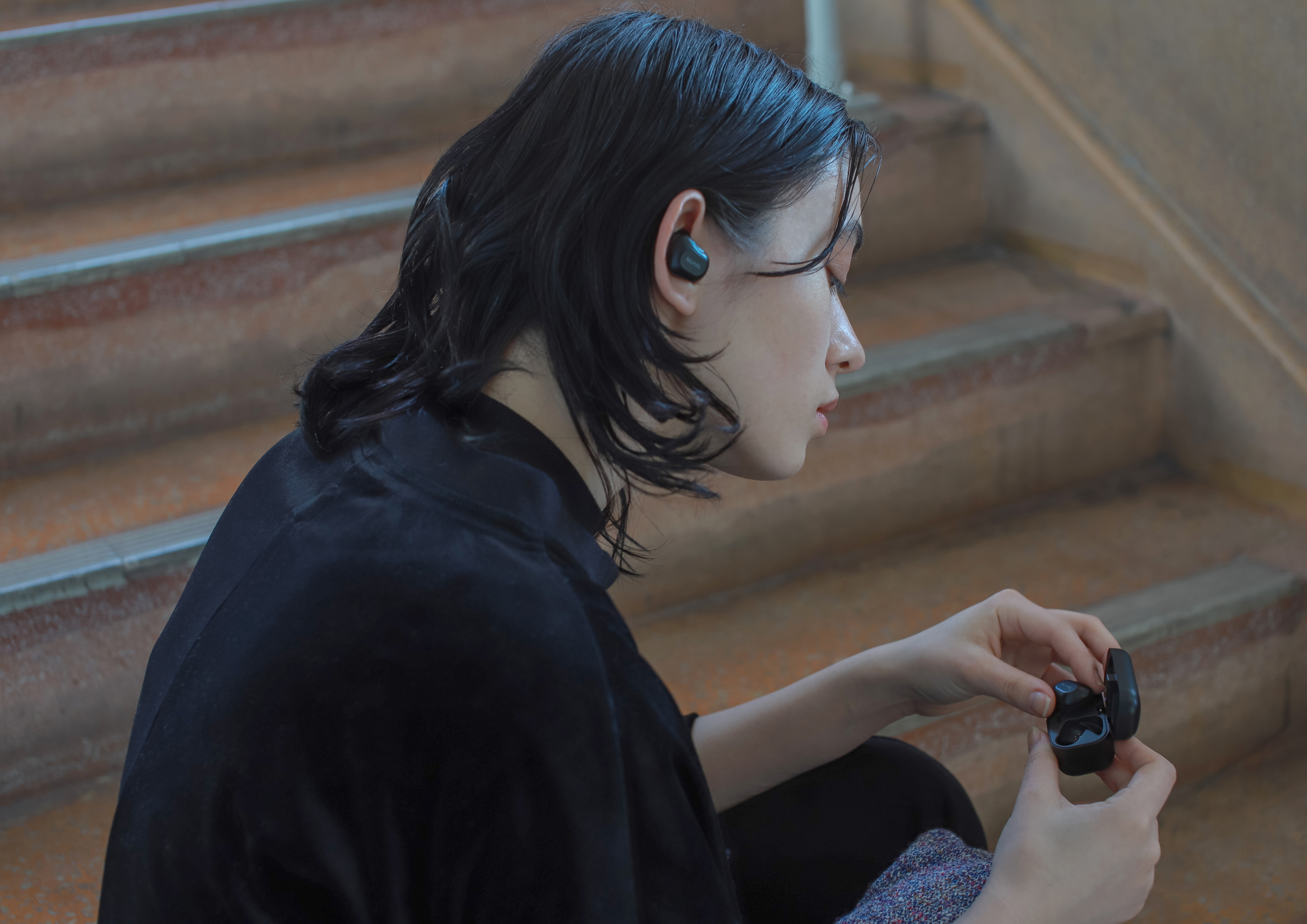 Long playback and power saving functions installed
Long battery life allows you to enjoy your music for a long time up to 4 hours (up to 17 hr. combine with the charging case).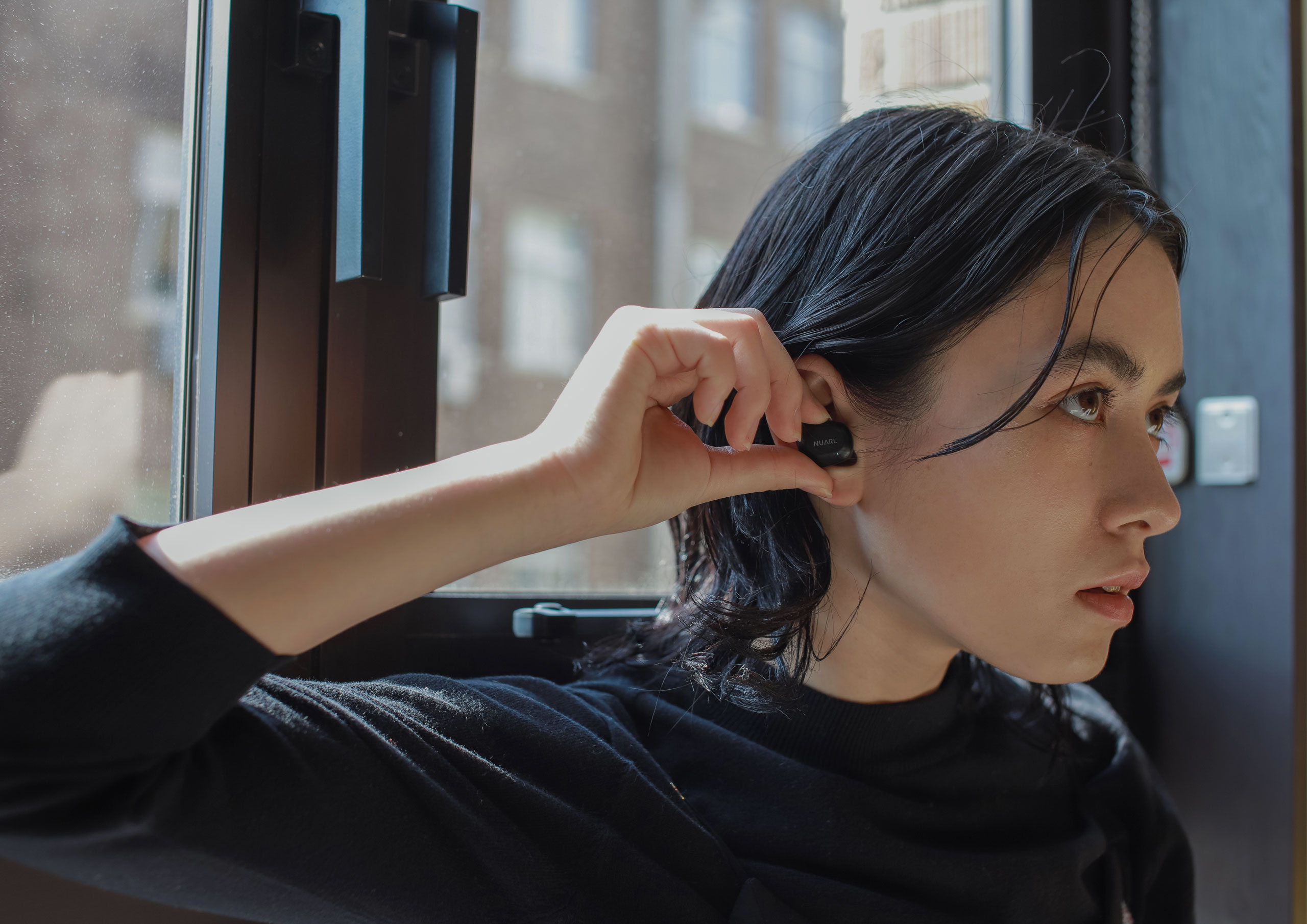 Control Smartphone
The buttons on the left side of the earphone are capable for controlling the playlist of your smart phone/receiving calls/refusing/ending, and starting up voice commands (Siri/GA). Buttons on the right side allows you to adjust the volume during playing music. The master earphone is equipped with high sensitive microphone for speaking and voice commands.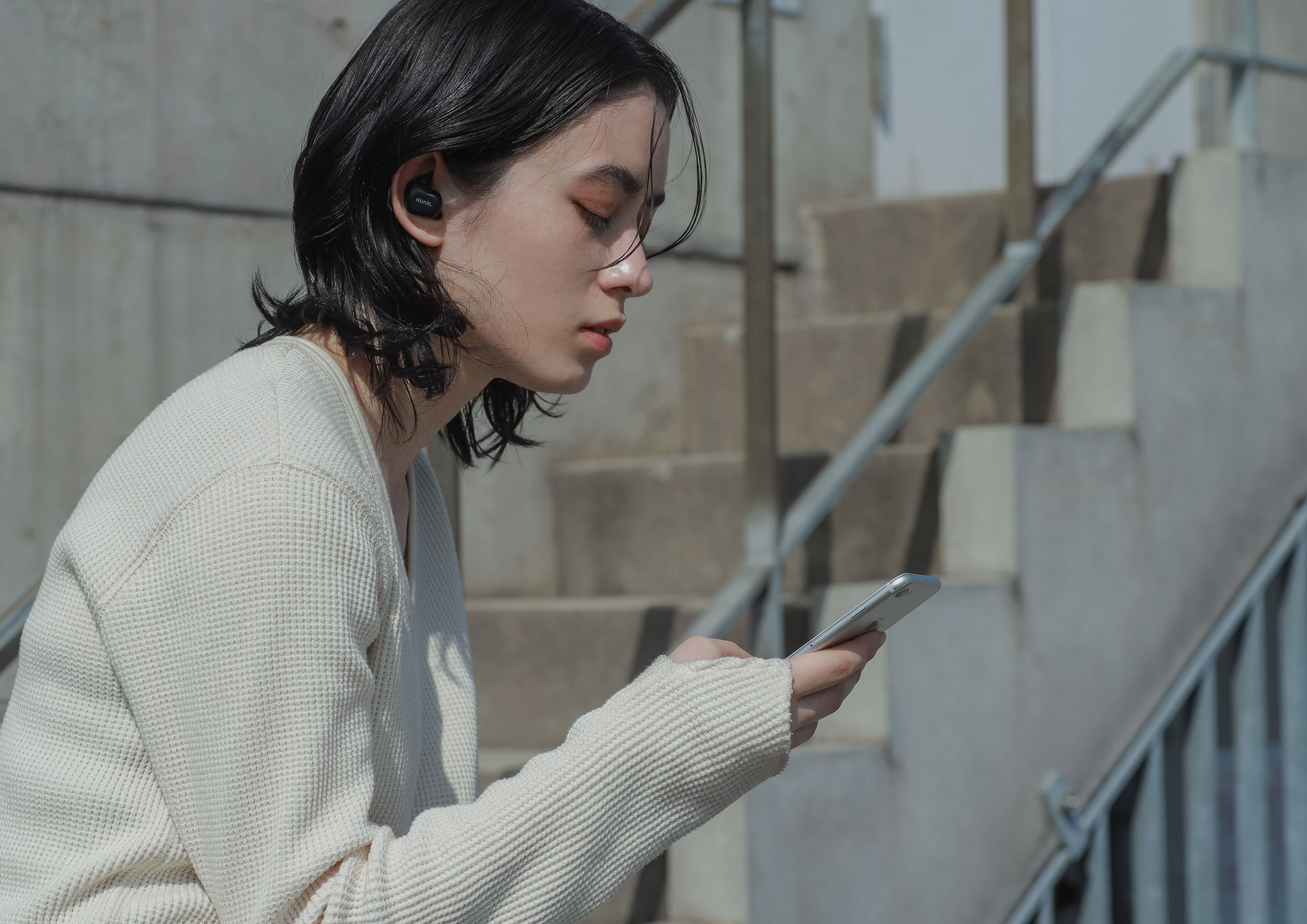 Original "Broad" Design
Asymmetric design helps you distinguish which side you are wearing. Buttons on top make it easy to press even with long fingernails or gloves on, also without pressuring your ears while controlling. Applying water repellent treatment by nano-coating inside the earphone give a water resistance rate level IPX4.
Comes with charging case "NT CASE 2"
Charging case supports high speed charging could be fully recharge in 1.5 hr. Able to recharge NT01 series earphone 2.5 times.
Compact charging case
About 1.5 hr. can charge up the case from empty to full. Only a 15 min. charge will give you up to 1 hr. of playtime.
NT01B
HDSS® True Wireless Stereo Earphones
Colors
NT01B-MB:MATTE BLACK / NT01B-BS:BLACK SILVER
Accessories
Earpieces (Fitting Type): L/M/S
Earpieces (Plugin Type): L/M/S
Ear-loop: L/S
Recharging Case
Recharging USB cable
Pouch
User's guide
Specification

Dimensions

(Earphone x 1) W26.0 x H25.2 x D28.2 mm (excluding tips)
(Recharging case) : W58.6 x H35.9 x D32.6 mm

Weight

(earphone x1) about 5 g.
(recharging case) about 26 g.

Driver

Dynamic Type Single φ6 mm (HDSS)

Frequency range

20~20,000 Hz

Microphone

Omni-directional / cVc noise canceling installed

Bluetooth Spec.

Ver.,5.0/ Class 2

Bluetooth Profile

A2DP, HFP, HSP, AVRCP

Bluetooth Codec

AAC/SBC

Power (Earphone/Case)

Lithium Polymer Battery installed (60mA/280mA)

Continuous Playtime (Max)

about 5 hr. (12 hr. when used with recharging case)

Continuous Talking Time (Max)

about 6 hr.

Recharging Time (Max)

about 1.5 hr.

Water Resistance

equal to IPX4

Environmental Temperature

5-50 degrees C (without frost)
NT01L
True Wireless Stereo Earphones
Colors
NT01L-NV:NAVY / NT01L-DG:DRAK GRAY
Accessories
Earpieces (Fitting Type): L/M/S
Ear-loop: L/S
Recharging Case
Recharging USB cable
User's guide
Specification

Dimensions

(Earphone x 1) W26.0 x H25.2 x D28.2 mm (excluding tips)
(Recharging case) : W58.6 x H35.9 x D32.6 mm

Weight

(earphone x1) about 5 g.
(recharging case) about 26 g.

Driver

Dynamic Type Single φ6 mm (HDSS)

Frequency range

20~20,000 Hz

Microphone

Omni-directional / cVc noise canceling installed

Bluetooth Spec.

Ver.,5.0/ Class 2

Bluetooth Profile

A2DP, HFP, HSP, AVRCP

Bluetooth Codec

AAC/SBC

Power (Earphone/Case)

Lithium Polymer Battery installed (60mA/280mA)

Continuous Playtime (Max)

about 5 hr. (12 hr. when used with recharging case)

Continuous Talking Time (Max)

about 6 hr.

Recharging Time (Max)

about 1.5 hr.

Water Resistance

equal to IPX4

Environmental Temperature

5-50 degrees C (without frost)