Work hard, play hard.

N10 Plus ANC TRULY WIRELESS STEREO EARBUDS
N10 Plus
購入
feature
Specification
FAQ
True Wireless Earbuds with various functions
N10 Plus carry on Nuarl high sound quality equipped with a wide variety of function, such as Feed-forward ANC, Multi-point connection, Left and right independent communication, aptX adaptive, Gaming mode, Google Fast Pair and more. More earbud function could be customizing by using smartphone app "N10 Connect".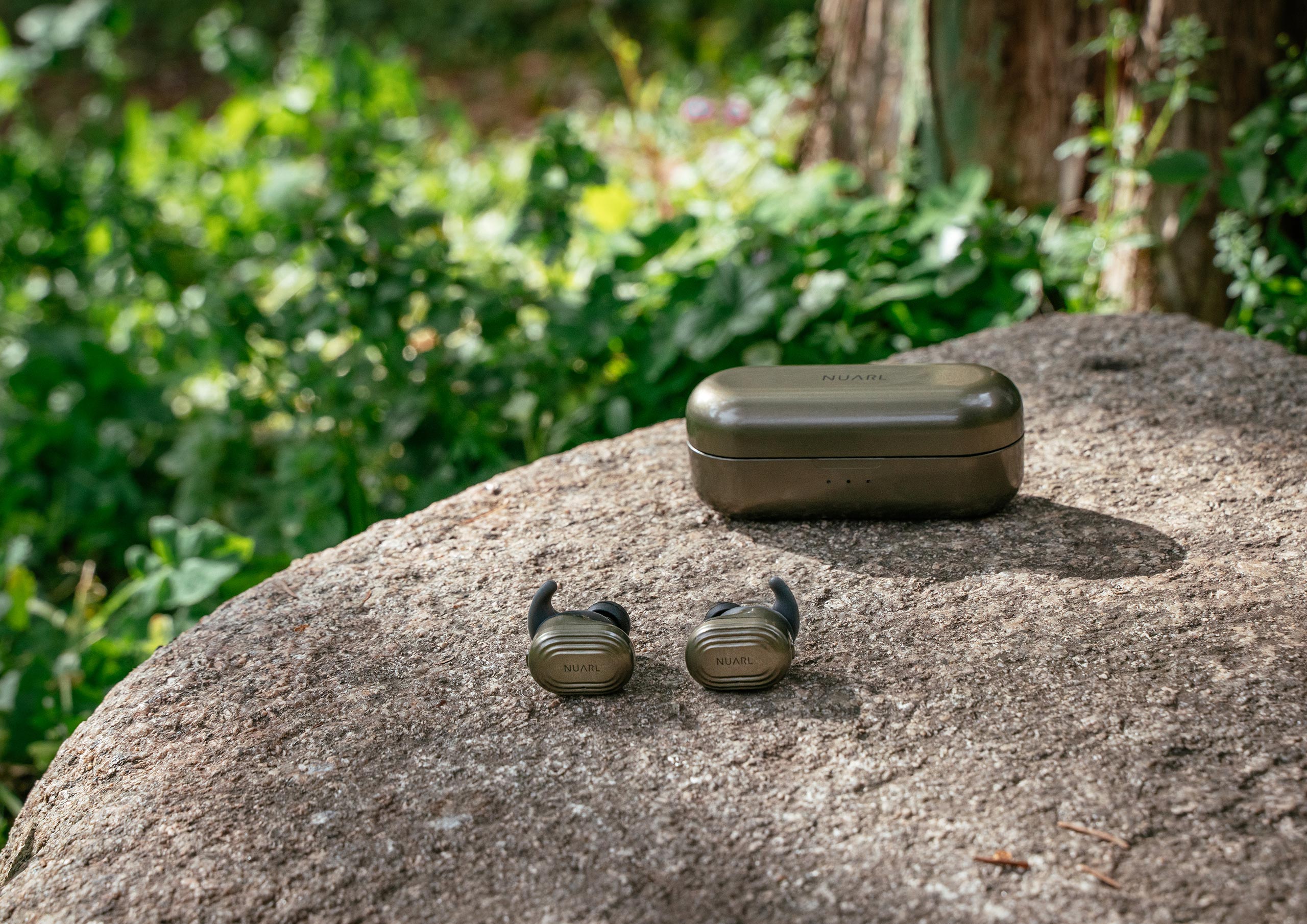 Equipped with NUARL acoustic technology
N10 Plus adopted original PTT multilayer diaphragm assembly with Φ10.0mm dynamic type full range driver forming "NUARL DRIVER"[N10]v3, combining analog and digital tuning by storing the earbud module in a metal housing. Also, adopted the patented technology HDSS® which can prevent the in-head positioning problem that is common in inner type earbud and reproduce natural sound spread for the entire frequency band. Support "multi-point" that allows connecting to two devices at the same time, making it ideal for work from home and net meeting. Left and right independent communication is possible regardless of the connected device, and even if one side earbud is turned off, another side will automatically connected and music/calls can be used without interruption.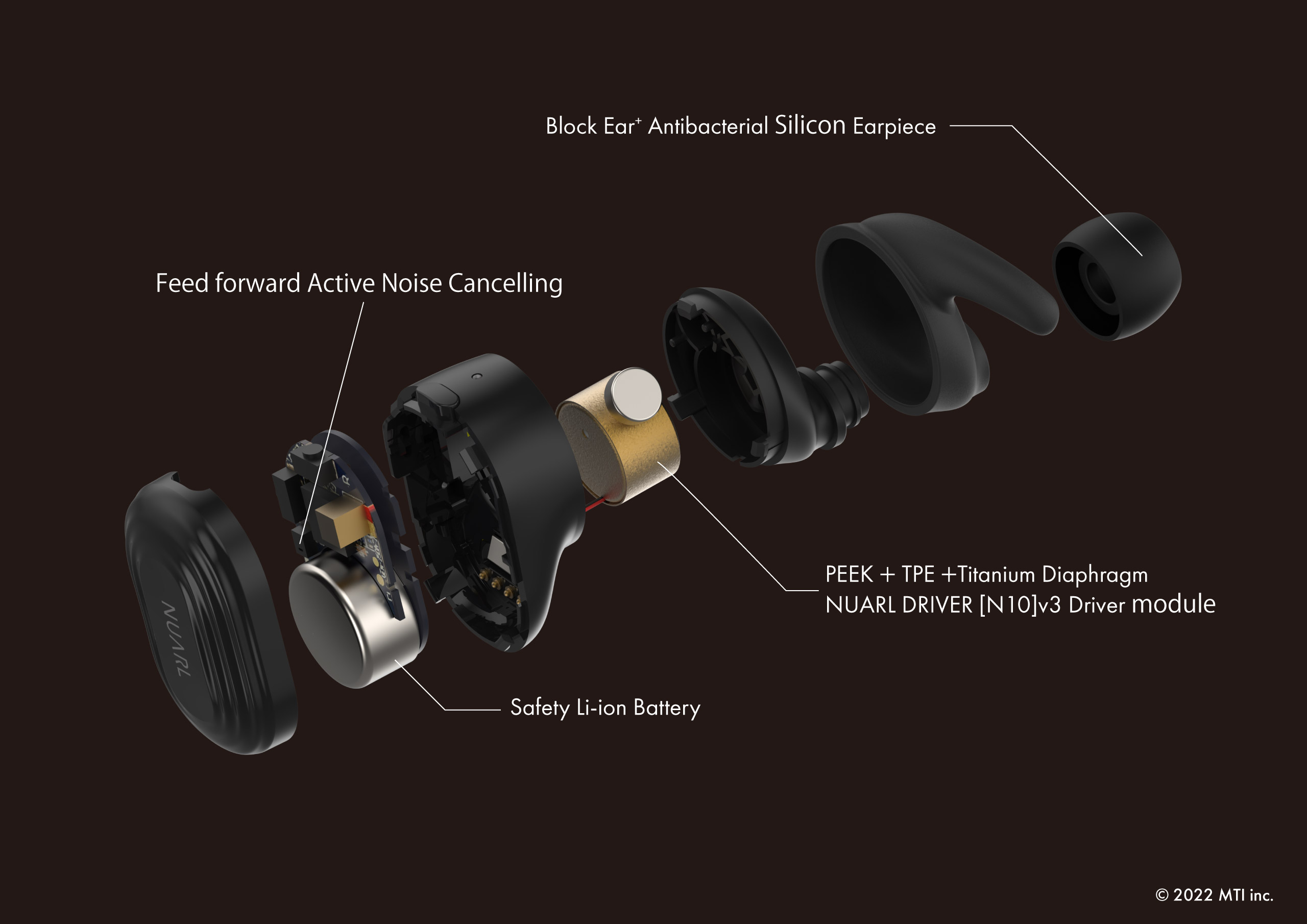 ANC suppresses the effect on sound quality
Equipped with feedforward ANC, which can reduce environmental noise. While achieving the same noise reduction equivalent to N10 Pro, the impact on sound quality has been minimized. You can also use N10 Connect to select the level of noise reduction. Continuous playback for over 7 hours (ANC OFF) from one charge. And up to 30 hours of music pla yback when used with the charging case. Even with ANC ON, continuous playback could be up to 5 hours. By using button-type battery to have a high safety, the battery will not swell even if it generates heat, also it is strong against impacts such as dropping.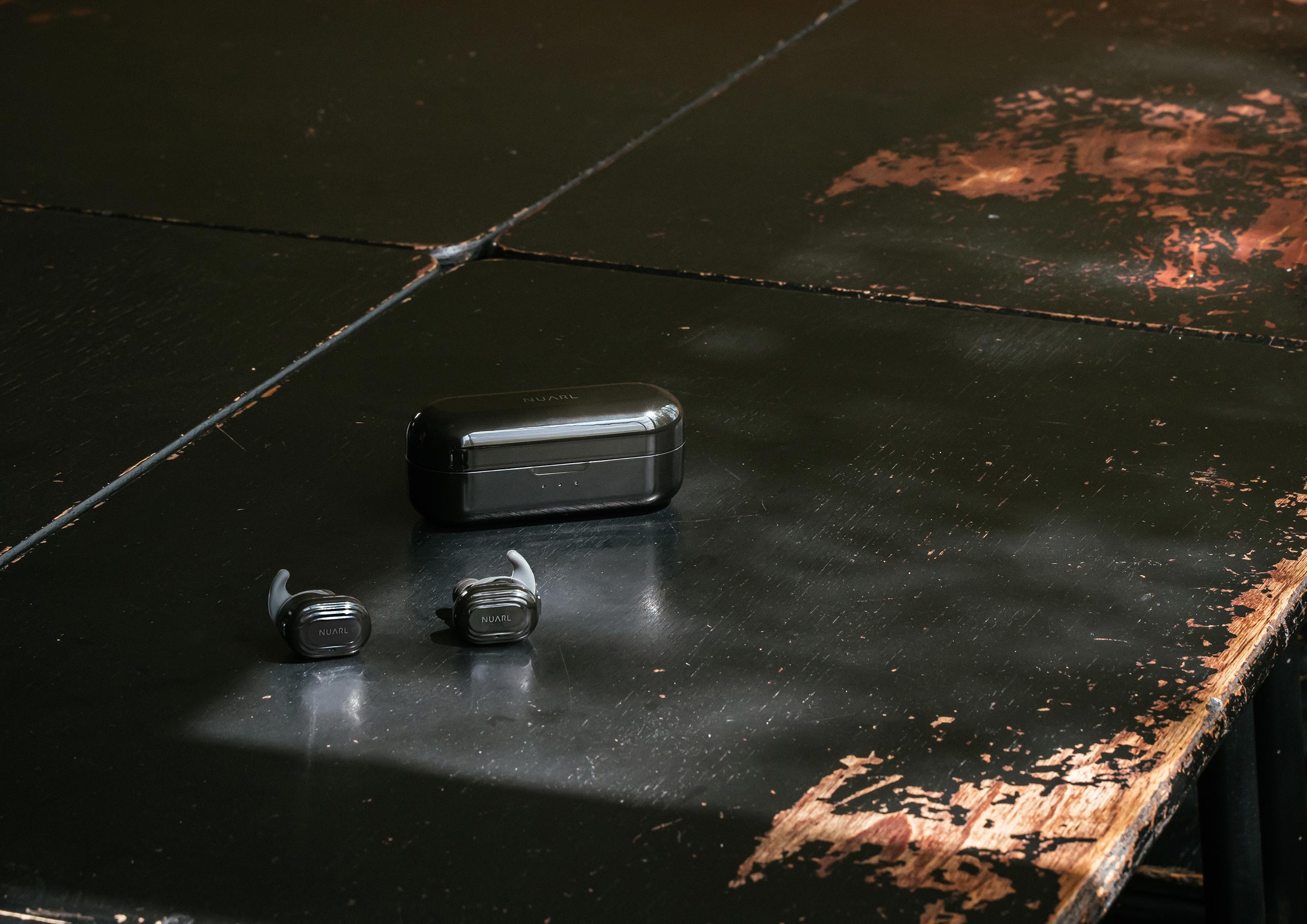 Appointed Akihiro Momozaki (by BATTLES DESIGN) as product designer
Two color variations Light Olive and Piano Black are available.
N10 Connect APP for iOS/Android
Support customization and switching of earbud functions using iOS / Android compatible smartphone app "N10 Connect". Switching ON/OFF of ANC/ambient mode, switching ON/OFF of gaming mode, minimum /maximum volume level setting, equalizer setting, main button operation content, etc.
*Free distribution in App Store and Google Play Store.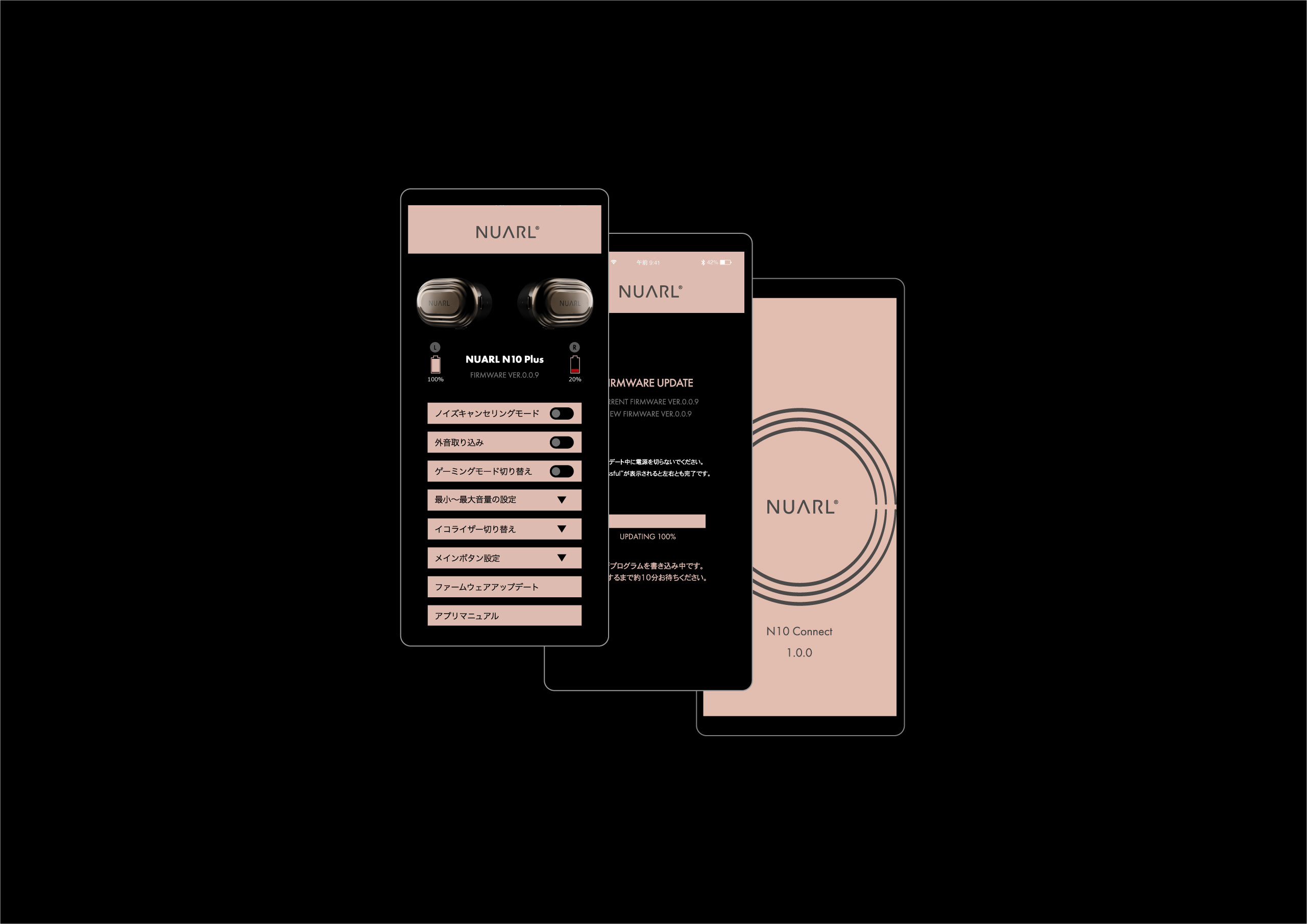 N10 Plus
ANC TRULY WIRELESS STEREO EARBUDS
Color
N10 Plus-LO(LIGHT OLIVE)
N10 Plus-PB(PIANO BLACK)
Accessories
Charging Case
USB Type-C charging cable
Block Ear+ Antibacterial silicone eartips(S/MS/M/L)
Silicone earwing
User Guide(Jap.Eng.Man)
Specification

Dimensions

Earbud:W27.6 x H18.5 x D28.9mm
Charging case:W95.5 x H39.3 x D36.8mm

Weight

Earbud:7.4g
Charging case:66g

Continuous Playtime

7hrs(SBC/AAC)5hrs(aptX) --- ANC OFF
5hrs(SBC/AAC)3.5hrs(aptX) --- ANC ON

Max playtime

combine with charging case 30hrs

Recharging time

1.5hrs

Bluetooth Spec.

Version5.2/Class2/multi pairing(4)/multi point(2)

Profile

A2DP, HFP, HSP, AVRCP

Codec

aptX Adaptive, aptX, AAC, SBC

Driver Unit

Φ10mm Dynamic full range with PTT diaphragm "NUARL DRIVER"[N10]v3

Frequency Band

20〜20,000Hz

Microphone

cVc noise canceling installed mic x2・ANC and Ambient sound mode use x2

Water Resistance

IPX4

Warranty

1year
FAQ(Update on 2021.4.27)
Cautions when using Google Fast Pair
When pairing using Google Fast Pair, the earbuds and device information are linked and registered in Google database. When changing the device or earbuds please note that if you do not delete the pairing information of the earbud from your device, the registered information will remain and cannot be deleted.
Earbud do not get charge even I put them in the case.
When you use it for the first time, or if you haven't used it for a while, the earbuds will go into sleep state, you can restart and charge them by picking the earbuds out from the case and putting them back in the case.
The earbuds do not automatically turn on/off when it is take out / placed in the charging case.
When the power of the charging case is insufficient, the automatic ON/OFF function will not work properly. Please turn on/off the earphone manually.
Cannot control the music playlist from earbuds.
Some portable players such as the Walkman music playlist cannot be operated by the remote control function。
Cannot pair/connect to my device.
Please delete the pairing history on the Bluetooth menu of your device and pair to your device again. If the earbuds do not appear on the Bluetooth menu of your device, please turn the Bluetooth OFF and ON. Before starting to pair a second device, please turn OFF the Bluetooth of the first device.
How to start the ambient sound mode?
By pressing the sub button of the earbud, you can switch in the order of ANC 0N → Ambient sound mode ON → OFF. You can also turn them on /off individually by using the N10 CONNECT app.
Is it possible to stop playing music/decrease music volume when using ambient sound mode?
By using the N10 CONNECT app, selecting the music playback mode when the ambient sound mode is ON. Also the same operation can be set when the ambient sound mode is turned ON by the sub button of the earbud.
Can I use ANC and ambient sound mode at the same time?
Two functions cannot be used at the same time.
Can I use ANC or ambient sound mode during a call?
You can switch between ANC and ambient sound mode during a call.
The pairing name is garbled.
When pairing using Google Fast Pair, the pairing name may be garbled until the database on the Google side is updated.
N10 Connect app cannot be open on Android OS digital audio player.
Android 8 or later and GPS are required to use N10 Connect. Since N10 Connect communicates through BLE, it is essential to acquire location information.
N10 Connect app cannot be open.
The N10 Connect app will only launch if your smartphone and N10 Plus are connected via Bluetooth. Since N10 Connect communicates by BLE, it is essential to acquire location information by GPS. Allow "Use Bluetooth" and "Location Access" to use the N10 Connect app. The N10 Connect app only stores the acquired location information and does not send the collected information to others. If the app does not start even when connected to the earbuds, try to turn on/off the Bluetooth of the connected device and restart the app.
N10 Connect will not work if you changed the name of the earbud, so please do not change it. Whenever you turn on / off the codec in the app, check the Bluetooth settings of the terminal to see if the earbuds are reconnected, and if not, manually select the pairing name of the earbud and reconnect.
Latest version of app and firmware
N10 Connect for Android ver.,1.1.4 / for iOS ver.,1.1.3 / Firmware:0.1.2(2021.4.27 update)
About firmware update
The function of the earbuds can be added or improved by updating the firmware. If you are using the N10 CONNECT app, updating the app when new firmware is available will activate the Firmware Update menu.
Fail to update the firmware
If the battery of the earbud is low, the firmware installation may fail. Before updating the firmware, fully recharge the earbuds.
When pairing with computer the sound is strange.
The Bluetooth connection equipped in computer is not optimized for playing music, which will cause problems such as intermittent sound and distortion of sound easily. Moreover, the use of other Bluetooth devices such as mouse, keyboard, etc., may also cause interfere with each other. If you are using MacBook series, you can improve the connection by resetting the NVRAM (PRAM) and use AAC to connect with the earbuds.
Continuous playback time is shorter than the one written on the manual.
The continuous playback time varies depending on the environment, music, and volume. Using aptX decoding will consume more power than using other decoding.
The connection with my device had lost.
Delete the earbud information from the Bluetooth menu of your device and try pairing again. The earbud will automatically switch to pairing mode when the power is turned on and there is no reconnection target near by.
The connection of Left and Right earbud is drop.
Put both earbuds back in the charging case and pick them out together or turn off both earbuds and turn on them again. If the connection is still failure, please refer to the User guide to reset your earbuds.
Can aptX HD be supported?
Since aptX HD is a codec that does not allow wireless transmission between left and right, it cannot be used with all true wireless earbuds currently.
Does it support TWS+?
It does not support TWS+(Qualcomm TrueWireless Stereo Plus).
Volume level setting through N10 Connect does not work.
The volume level setting works only during music playback. The volume level once set is stored in the earbud.
Can I use other ear tips?
The eartips of SpinFit CP360/ CP100Z/CP350 have been confirmed can be use normally. Other ear tips are not guaranteed to work properly.